About the author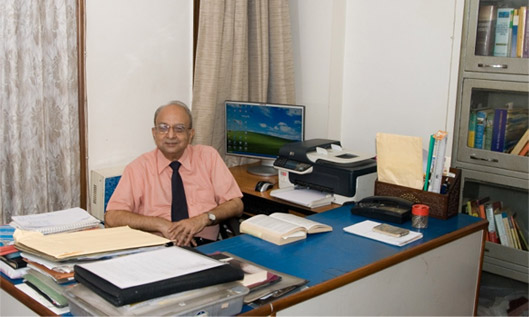 Growing up in the streets of old Delhi
The novel has the backdrop of various gates, streets, chowks and bazaars in old Delhi. A part of author's childhood was spent in the lanes of the old city near the Ajmeri Gate, the location where Raju the protagonist of the novel lives. The other nearby gates-- the Turqman Gate and Delhi gate, were the areas where he used to go play along with his friends. He had a great fascination for the gates as also the trams chugging by in Chandni Chowk, one of the important locales of the novel.
The gates, reflecting the architectural grandeur of the Moghul times, were amongst the fourteen arched openings in the heavily built high walls surrounding old Delhi city, making it a large fortress. Four of the gates still survive. Construction of a new city--New Delhi-- was started after the announcement of shifting of capital to Delhi in 1911.
Exposure to the heritage of India, colonial rule and the independence movement
He developed a flair for the Indian history including the British Indian period as well as English literature after reading books like Jawahar Lal Nehru's The Glimpses of World History, and Discovery of India, Maulana Azad's India Wins Freedom, E.M.Forster's A passage to India and Paul Scott's books on The Raj Quartet.
As a student in Hindu college and Delhi Polytechnic (later Delhi College of Engineering) he had extensive walks along Lothian Road, Kashmiri Gate, Civil Lines, northern ridge and the Yamuna River, all of which find a place among the locales of this novel.
Insight into the industrial revolution in India in the early twentieth century
During the professional career of over thirty years in industrial project management the author got an insight into the silent industrial revolution in India during the early twentieth century examples of which are: first power generating system in Delhi in 1905, first tram in Delhi in 1908 and first furnace of Tata Steel in 1911. Depiction of the efforts of the protagonist Raju to set up chemical and textile plants in the novel have all been influenced by author's long professional career in the establishment of such plants.
Current interests
Besides his interests in writing fiction more of which will be published next year, the author is working as a consultant and an arbitrator. He co-authored a book on Arbitration: Procedure and Practice, published by LexisNexis Butterworth Wadhwa in 2009. He has delivered lectures on arbitration and also contributed papers for seminars.